The difference between pumps and stilettos is the size of the heel. Pumps usually come in two types; closed-toe and peeped-toe with heel of 1 inch or less. However, stiletto heels are very tall and thin of 4 or 5 inches. Mostly women prefer to wear stilettos on parties and occasions.
Pumps are flat or low heel shoes, mostly preferred in formal attire. They are very comfortable as compared to stiletto heel.
Stilettos heels and Pumps are very fashionable footwear, used by the women. Stiletto heels would become more popular for their attractive nature than for their ability to make height. The stiletto heel has a variety of shoes like pumps, boots, sandals, and slingbacks.
Comparison Chart
| | | |
| --- | --- | --- |
| Basis | Pumps | Stilettos |
| Shoe type | Shoes with a low cut front with some ankle straps with flat heel | shoe with a tall and thin heel of 2 cm and more |
| Known as | Pump shoes are also known as court shoes | Stiletto heels of 5 cm or less are also known as kitten heels |
| Worn for | Pump shoes can be worn casually and formally by both men and women | Mostly stilettos wore by men and women on  formal and festive events |
| Comfortable | Pump shoes are very comfortable to wear | Stilettos are less comfortable as compared to flat pump shoes |
| Material used | Pump shoes for dancing are made of satin, whereas pumps for men are made of leather, which is whole cut and lined with cloth | Stilettos can be made of different materials but most common material is patent leather |
| Length of heels | 5 inches, a thin type of heel. | 2.5 cm or less |
What are pumps?
A pump shoe (American English) or court shoe (British English) is a shoe with a low cut front. Pumps for women are made of satin and pumps for men are made of patent leather, the style is sometimes called patent leather pump.
Pumps have a formal appearance when women wear them with suits and can also give a casual look if pumps accessorized with jeans and skirts.
The procedure of making pump shoe is very simple, by using the low cut leather, top with a low vamp, lined with plain leather, trimmed with braid at the gap. A pump shoe may have an ankle strap. However, a classic pump is made without laces, buckles, and straps.
Pumps are usually flat with no high heel. For pregnant women, pumps are more comfortable to wear on occasions.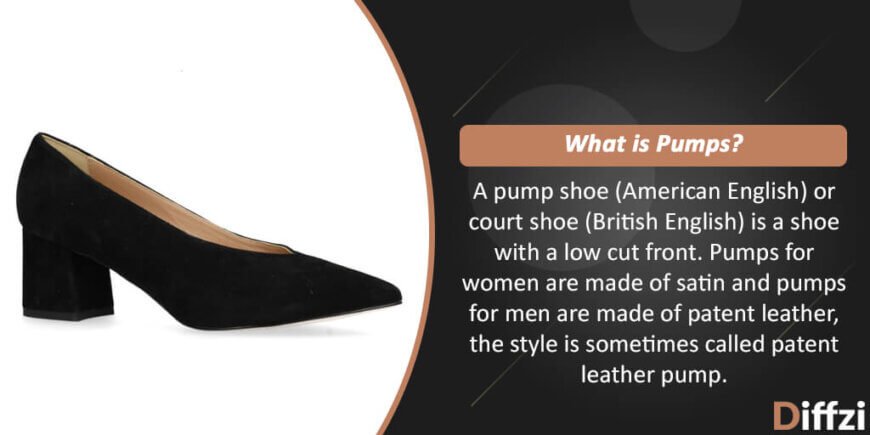 The History of Pumps
The history of pumps is very mysterious. Nowadays, the term pump is used to describe women shoe, but years ago men were the original wearer of pump shoes. In the beginning of 1800's pumps were not as trendy as they were rejected by the United Nations and Europe.
In the mid of 1800s, pump shoes were back and slipper style was faded. Then, in Europe these shoes were known as court shoes, and in the USA they were known as pumps.
In 1954, a shoe designer, Roger Vivier, worked for Christine Dior, designed the 3 inch stiletto heel, which became much more glamorous as compared to practical court shoe, so the pumps were back and regain their popularity among the women over the last century.
Advantages of Pumps
Pump shoes are normally flat or low heel shoes and very comfortable to wear.
As they are mostly covered as compared to stiletto, pumps give more warmness, in cold.
Disadvantages of Pumps
Pumps will not look so great with skirts and long maxis in clubs and parties.
Pump shoe can cause pain and swelling, skeletal, and muscular issues, hammer toes and lower back pain.
What is Stiletto?
Among many types of heels, stilettos are the one. They are famous for extra long heels as compared to other heel shoes. The tip of the stiletto heel is made from solid steel or alloy. Stilettos are very famous for their seductive nature among other high heels. Stiletto comes in a variety of sizes and shapes, their heel height varies from 2 cm to 25 cm.
Stilettos are known to give a more feminine look as well as classy look when used by the women and girls. Some women wear stiletto heels because they prefer class over comfort. Mostly they are long, thin, and narrow.
The most preferred type of material which is used to make stiletto shoes is the patent leather. Stilettos give longer, slimmer and sexier look.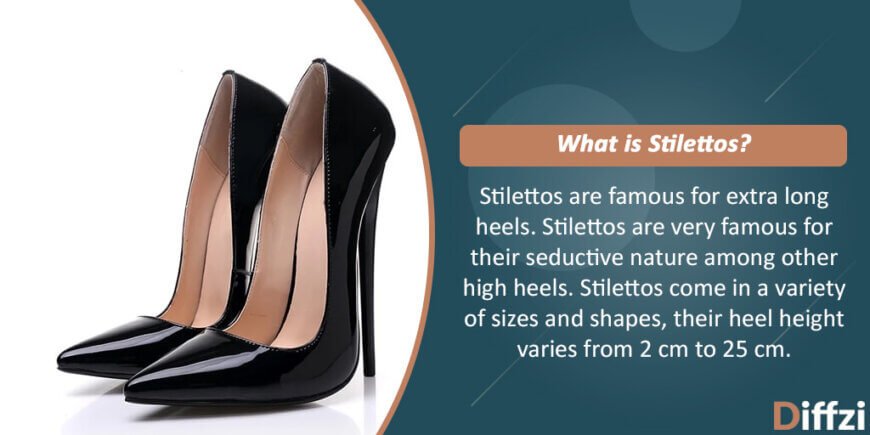 The History of Stilettos
Back to the era of 1950, stilettos become prevalent heels among the women because of their erotic features and after an initial wave of popularity, fast-forward to the era of 1960 manufactures were amazed to see sales of stiletto reaching the heights of profits.
But unfortunately due to some unknown reasons, when the Beatle era begun, stiletto shoes were disappeared from the mainstream shops but due to constant demand from women when they could no longer find their matching stilettos.
After seeing such high demand in 1974, Manolo Blahnik took initiative and reintroduced the new version of stiletto heel by replicating the old and unsold stocks of pointed-toe stiletto.
The new stilettos were slightly thicker and of round-toe which women at that time loved to wear at their office with broad neck power suits. But again during 1990s, stilettos were once again disappeared from the market due to their declines in sales when college-age girls started wearing shoes with thick block heels but finally after 2000 stilettos came back when young women started wearing them during their office for adding a feminine touch.
Advantages of Stilettos
Stilettos give a classy look.
You can look taller having worn stilettos.
For office going women and girls, stiletto heels are the best choice, as it gives a more feminine look.
Disadvantages of Stilettos
If you accidentally fall somewhere while wearing stilettos, it can rupture your tissues or dislocate your bone.
Stiletto heels are less comfortable.
The excessive use of stiletto heels can cause venous complaints such as pain in heels or heavy feeling legs.
Key Differences between Pumps and Stilettos
The key difference between pumps and stiletto is the thin high heel. Pumps have flat and low heel, so they are more comfortable. On the other hand, stilettos are high heels, so they are less comfortable.
Pumps may give you a formal look, while stilettos give you a more feminine look, and they are famous for their seductive nature.
Pumps are usually closed toe with 1 inch heel or less. On the other hand, stiletto high heel varies up to almost 25 cm.
Comparison Video
Conclusion
Pumps are flat or low heel shoes; however, stilettos are very high heels. If you want to choose between pumps and stilettos you should take into consideration the place where you want to wear shoes. Are you going to a party and you want a classy sexy look? , the stiletto is the best choice. However, pumps will work great for formal attire.