The main difference between Hotmail and Gmail is that both belongs to difference companies. Hotmail is the free web based email service of Microsoft while Gmail is the free web based service being provided by the Google.
What is Hotmail?
Hotmail is a free web based email service by the Microsoft. It was launched in July 4, 1996 by the name of Hotmail. In July 31, 2012, Outlook was also introduced by the Microsoft. Both works on the platform of Hotmail. However, in 2013 Hotmail was replaced with Outlook.com. Outlook.com works with Hotmail address as well. Moreover, Hotmail.com is still operative. Hotmail also includes unlimited storage, Ajax and integrated Calendar, OneDrive, People, and Skype. Unique feature of Hotmail is that it doesn't scan emails or attachments for advertising information. Moreover, personal conversations are entirely ad-free. It is a way to get your own personalized inbox where you can keep all of your emails, events, calendars and important dates organized. Hotmail also provides the support for adding unlimited folders to categorizing the data according to specific folders. If talk about the team collaboration for business purpose or carrying any joint project then Hotmail support this system as well where the team members can share and access the joint work. The integration of entire Microsoft Office in Hotmail has made the Hotmail one of the best web-based email services because now the users of Hotmail can edit and save their Word, Excel or PowerPoint documents right from their inbox. After editing and saving these, they can download these files as well. Every account made on Hotmail comes with the integration of OneDrive. This provides the users 15 GB free cloud storage. The users can save all of their digital files like photos, docs, videos, etc. in OneDrive and can access from other devices as well. Hotmail lets its users keep their inbox clutter-free by utilizing the highly customizable features of the Hotmail that are available in shape of filter, sweep to, move to and instant action system that gives the users a more powerful command and control over their inbox. Recently Hotmail has introduced another feature in shape of upgrade from Gmail that enables the account holders of Hotmail to import all of their contacts and messages from Gmail to Hotmail.
What is Gmail?
Gmail is a free web based email service of Google. It was launched on April 1, 2004. It is available in over 72 international languages and having 425 million users across the world. At present, it is the most widely used web-based email provider and 60% of small U.S. companies are using Gmail. Gmail is the first app on the Google Play Store to download one billion time on Android devices. In 2004, Gmail was launched with 1GB storage space. The simple and easy to use Gmail account can be accessed from almost any device and operating system. Gmail enable its users to organize all of their mail by sorting them into different categories. For the account holders of Gmail, Google has integrated the Google Drive in Gmail as well that provide the users with 15 GB of free cloud storage. That means the account holders of Gmail can store all of their digital media files in Google Drive and can share the same with other users as well. In order to entertain the business users, Gmail offers the special Gmail for Work accounts as well that includes the important business management features of the calendar, docs, video meetings & conferencing, and much more. There are a number of customizable themes in Gmail to keep the inbox decorated all the time. For video and voice conversation there is integration of Google Hangouts in the Gmail. Moreover, the one account of Gmail can be used in other Google services that require account first. Among lot of other features, Gmail support for the sending of money to friends and family members as well. The users can attach the money to their messages and can securely send the same via their Google Wallet and Gmail. This feature is still missing in most of the web based email services. That means Gmail is not about sending and receiving of messages only. One account of Gmail can be used for various Google services.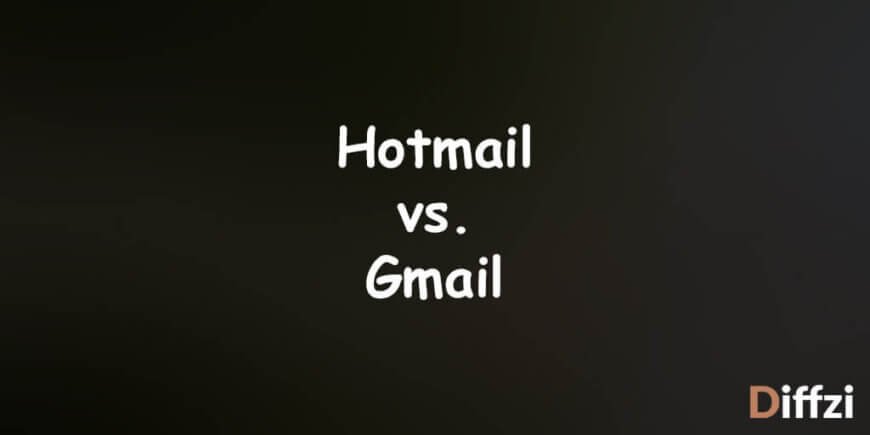 Key Differences between Hotmail and Gmail
When it comes to privacy and security then Hotmail is a highly secured medium for email as it never scan the emails of its users to send them ads that are usually done by the Gmail with its account holders.
The Hotmail account can be used to connect to Skype, Twitter, Google, and LinkedIn. While Gmail account can be used to connect with the most of the Google services. It supports the limited connection for other social media platforms.
The Hotmail account lets the users to make video call or chat with Skype friends while Gmail account is also used for the same purpose but with Hangout users.
Hotmail never sends the email content based ads that are common in the Gmail.
One click mark as read system is available in Hotmail but still missing in the Gmail.
Hotmail offers its users to view, edit and share the MS Word, Excel and PowerPoint files by using the MS Office Online. Gmail doesn't support for the MS Office Online Suite. It has, however, its own Google Docs system that requires extra plugins in order to be accessed from the Gmail.
The Gmail account holders can send the money to their friends and family members as well. Google Wallet is integrated into the Gmail for this purpose. While there is no system for sending of money via Hotmail account.
Both Hotmail and Gmail provide the team collaboration system but for business users, Gmail has special Gmail for Work account system.
Gmail provides the 15 GB of email storage space that is linked with the Google Drive while Hotmail provides the unlimited storage space because email storage space is not linked with the storage space of OneDrive.
Gmail supports the both SSL and TLS as cryptographic protocol while Hotmail supports the only SSL.
The account expiration period in case of continuous inactivity for Gmail is nine to twelve months. In the case of continuous inactivity for nine months, the account will be blocked and in the case of twelve-month it will be permanently deleted by Gmail. In all cases of Hotmail, the account will expire in case of not using for continuous nine months.
Gmail allow the creating account using own domain while Hotmail has no option for that.
Hotmail is a 19 years old web based email service while Gmail is 11 years old.
Hotmail is available in 106 international languages while Gmail is available in 72 international languages.
At present, Hotmail has over 425 million users and Gmail has over 430 million users.
Gmail is most popular as compare to Hotmail and its Alexa rank is 89 as on April 2015 and Alex rank of Hotmail is 492 as on April 2015.
Hotmail is more secure than Gmail. For users who are cautious about privacy of their emails are advised to use Hotmail.
Hotmail shows a full preview of message which is not available by Gmail.
File uploading size is 25 MB in case of Gmail. Hotmail offers 50 MB file uploading size in case of MS Office files.
Hotmail has proper folders to arrange the files while Gmail uses tags.