The difference between cotton jeans and denim jeans is the fabric that is used in the garment. Denim Jeans are the most popular and most common fabric in jeans. On the other side, cotton jeans are also become popular with time because if its characteristics.
Denim is made of cotton twill textile which is weaved in a specific manner, in which the weft passes under two or more threads. On the other side, cotton is the base and can be made into a variety of materials like khaki, polyester and many others.
Comparison Chart
| | | |
| --- | --- | --- |
| Basis | Cotton Jeans | Denim Jeans |
| Fabric | Combination of raw materials | 100% Cotton |
| Durability | Less durable | More durable |
| Color | Variety of colors | Natural color |
| Weight | Light weight | Heavy weight |
What is Cotton Jeans?
Cotton is one of the oldest crops that are easily available and the world uses cotton more than any fiber and it is primarily grown to make clothes. The cotton plant grows in abundance and a very important trading material of various countries.
Characteristics of Cotton Jeans
Cotton jeans are lighter, more breathable, durable, and easy to wash and make. It can be dyed in many colors so it is easily available in a variety of colors.
These days, mainly due to the popularity of jeans, numerous jeans are being produced via a cotton–polyester blend. Traditionally, denim is 100% cotton. However, a cotton-polyester combination gives the jeans a lighter and stretcher consistency than pure denim.
Moreover, cotton jeans can be dyed into a variety of colors as compared to denim. Furthermore, cotton jeans are more resistant to fading and fade marks or patterns, including,
Whiskers
Pale streaks that are visible around the crotch area of the denim
Honey combs
Streaks of faded lines found behind the knee, stacks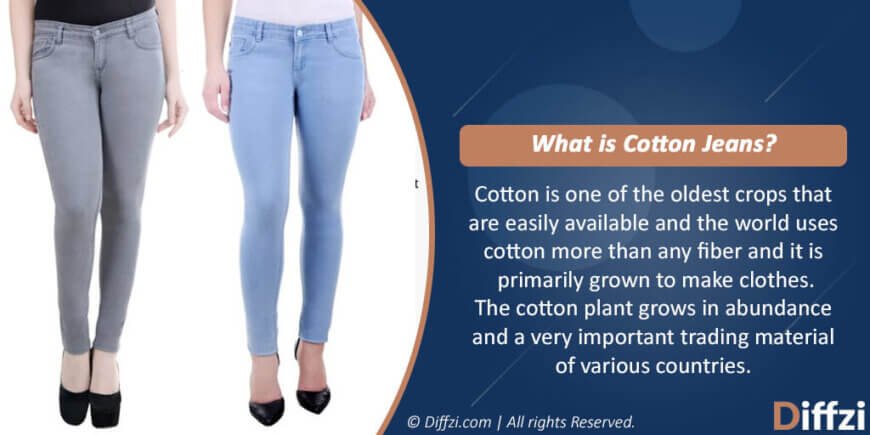 The Advantages of Cotton Jeans
It has many advantages, such as its ability to control moisture, provide comfort and it is also a durable fabric.
Moisture Control
Cotton fabric is light on the skin, breathable, and helps in keeping moisture away from the body, and allows you to remain comfortable when you exercise, keeping moisture from building up between your skin and clothing.
Comfort
Cotton jeans are usually soft and easily stretch, making it a comfortable fabric to wear.
Durability
Cotton has high tensile strength, making it strong, durable and less expected to rip or tear.
What is Denim Jeans?
It somewhat assumes the shape of the wearer. Denim feels great next to the skin and does not require any other clothing under it or with it.
They are hardly used for work wear. Many people prefer jeans because it is comfortable and lighter. They do not need to be ironed whenever you wear them.
Denim jeans are also known as "blue jeans" and are usually dyed indigo or blue. Conversely, denim can also be dyed into other desired colors.
Denim is not only a fabric that is used for jeans, but it is very famous in different countries. Denim can also be used for other clothing styles like skirts, jackets, covers, and bags.
The denim material is woven with a warp yarn that is composed of the blue cotton and white cotton to give it a variety of lines in blue and white color. Before the final product, it has to go through processes and can even be dyed to any preferable color. There are two types, dry and wet denim. The fabric of wet denim is used in making softer jeans. Such jeans usually have a smooth texture but are not as tough as those made of dry denim.
On the other side, after dyeing, when the material is not washed the dry denim results. As a result, the material remains tougher and it is used in making tough jeans such as the regular fit.
Denim jeans are great to wear every day
It is comfortable
It does not show stains badly
It can be worn in any type of climate conditions.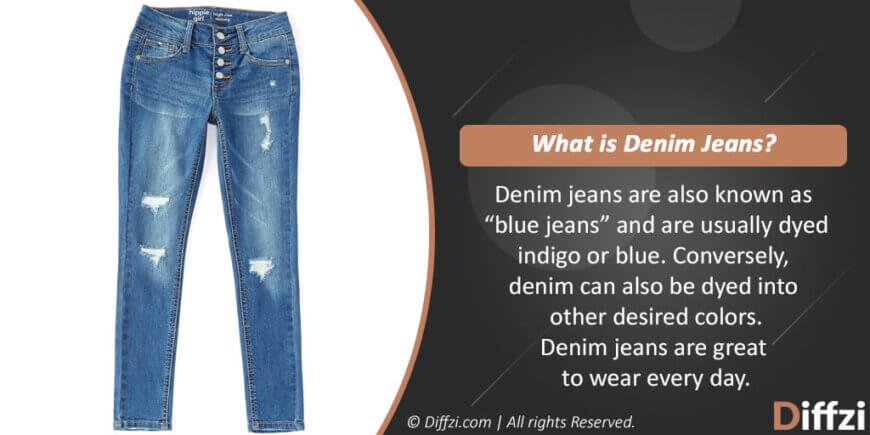 Advantages of Denim Jeans
raw materials of high quality
thick texture
clear and classic
Disadvantage of Denim Jeans
get fade easily
not much color
Variations in denim are usually accessible, with changes in the color and finish of the fabric. Styling remains largely rough. Denim is used mostly for apparel and accessories.
Key Differences between Cotton Jeans and Denim Jeans
There are two types of jeans, denim and cotton available for men and women. In the beginning, jeans were originally made from denim but are now easily available in other fabrics as well. Though, Denim jeans share much distinctiveness with cotton jeans, as denim is a by-product of cotton.
Denim jeans are mostly dyed in blue or indigo colors, while cotton jeans come in a variety of colors.
Denim jeans are denser and provide insulation but also being harder to make and wash. Denim jeans are usually manufactured commercially. On the other hand, cotton jeans are lighter, more breathable, and easy to wash and make. Cotton jeans can be homemade or produced commercially.
Denim can also be pre-washed and sandblasted to create a worn appearance or sand-washed to give it a trendily look. Cotton goods are bleached as well as dyed to make them appear fresh and vibrant.
Denim is usually dyed indigo, while cotton is dyed and available in all the colors of the rainbow.
Denim is used to make clothes, bags and sofa covers. Cotton is used in a wider range of products including curtains, bedding, rugs, bookbinding cloth and tents.
Denim is also perceived in a different way from other cotton goods. People relate it with jeans and casual clothing, while cotton is coupled with a variety of products.
Comparison Video
Conclusion
Denim and cotton are two different types of jeans. Denim jeans are 100% cotton, mostly available in indigo or blue color, more durable and classic. On the other hand, cotton is a very versatile fabric, available in different colors and it is easy to wash and sew.