Professional world is completely different from the college and university life. You have to pass through many stages to be successful in your profession. Trainings, seminars, internship programs, professional skills & development courses gives you experience about professional life. Today many manufacturing, banking, consulting, information technology companies are providing trainings and internship programs. Here the question arises what is the difference between training and internship. Same company provides both. Moreover, both are means of learning of some particular skill and knowledge. Then why we use trainee for some people and internee for some people? Before understanding the difference, it is essential to understand them one by one.
What is Training?
Training mean educating special skills, work procedures rules & regulations, generally practiced by an organization, to existing or new employees so that they can understand organizational environment and perform well towards organization objectives. Today world of business is completely different from previous business decade. With the change in technology, the policies and methods of doing business are also changing day by day. Therefore, it is very crucial for the companies to remain up to date with modern techniques. For this purpose at different times companies educates their employees with new skills and courses. Training can be in a form of new educational course or new software skill.  It is very beneficial for companies as they save lot of money by providing training to existing employees rather than hiring new staff. There are different kinds of training like physical training, administrative training, sale training, marketing training, teaching training, etc.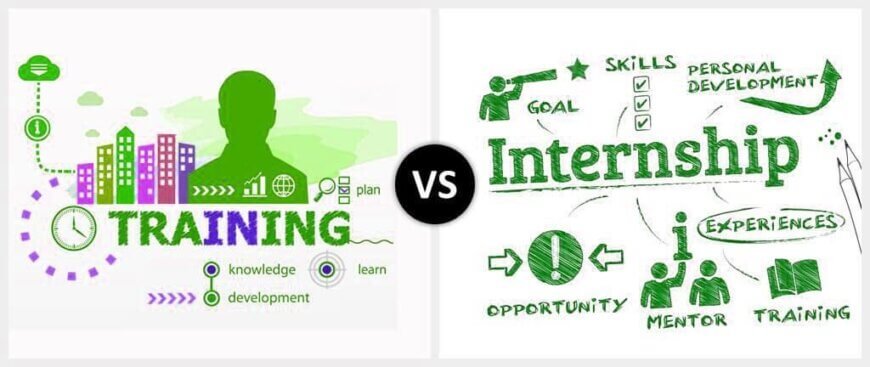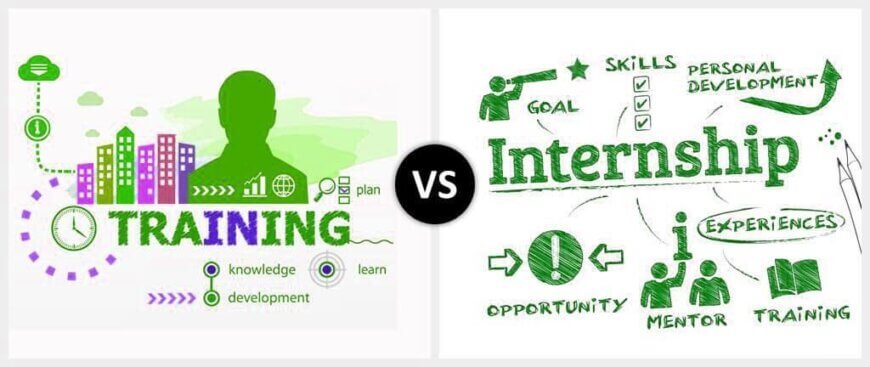 What is Internship?
Internship is a practical experience opportunity offered by companies, to willing and capable beginners of a profession, for a fixed term. Internship is normally offers to the undergraduate student. It can be full time or part time for a fixed period, 6 months or 12 months. It is very beneficial for the students, which help them to learn the practical impact of their study and know about a specific industry. It gives you opportunity to apply your theoretical knowledge. Some companies' gives stipend and some charges fee for providing research and other material. Now days in some fields of studies it is a requirement for accomplishment of degree.
Key Differences between Training and Internship
First difference between two is their duration.Training is provided to the permanent employees of the company either they are existing employees or new employees. After completing the internship term, you are not bound to work for the company. While in case of training, you remain the permanent employee of the company.
Internship is for a fixed term, which can be up to 3 month to 12 month. After completion of internship, you are awarded with a certificate. However, training provide no certificate and often the term of training is less than internship.
Internship is compulsory for most degrees like engineering, finance and medical programs. Training is not compulsory in most of the cases as sometimes-new employees comes with already gained experience.
Internship can be paid or unpaid. Sometimes companies charges fee from government or institutes for providing internship. While employees are paid according to their fixed salary during training.
Employees who gets training remain the permanent employees of the company while internship provide short-term employment and temporary position.
Companies offered internship program in summer when students are free from universities. Training to new employee is provided after his appointment, and to existent employee it is provided as new challenges appeared.