The main difference between graduate and undergraduate is the number of years, one has passed. The term graduate is used for those students who have completed their bachelor's degree and are enrolled for master's degree program (1-6 years), whereas the term undergraduate is used for those students who pursue their bachelor's degree from any recognized college or institute which usually lasts for 4 years.
The concept of these two terms is very confusing, because the terms and conditions are being used differently in many countries across the world. For example, a person who has graduated from any university of America is considered as post-graduated in other countries and a person graduated from any other country is considered as undergraduate in university of America due to their eligibility criteria.
Comparison chart
| | | |
| --- | --- | --- |
| Basis | Graduate | Undergraduate |
| Meaning | Graduate means, you have graduated with a degree; it's not specific as to what level of that degree is | Undergraduate means you don't have any degree, and you are pursuing for bachelor degree |
| Course work | It includes 4 courses that allow students to get 12 credits per semester or trimester | It may include 5-7 courses and 15-20 credits per semester or trimester |
| Tuition fee | Public colleges or universities charge up to $30,00 and private universities charge up to $40,000 | $3000 for associate programs and $9000 ( in states) and ~20000 (out of state) for 4 years degree at public institutions/ and colleges and for 4 years degree $32000 at private institution/ colleges |
| Eligibility | Graduate students need to have bachelor degree, GRE test score, transcripts, FAFSA and other financial documents | On the other hand, undergraduate requires, SAT scores, ACT score. In some cases, TOEFL scores , FAFSA and other financial documents are also required |
What is a Graduate?
Graduate education involves learning of professional as well as academic degrees, certificates and diplomas or other qualifications which required graduation degree and it is usually considered a part of higher education.
The structure of graduate education varies differently in all the countries and institutions of the world, in some fields such as accounting a graduate degree is not so common and the duration of graduate program depends on the nature of the program that is if you want to get a MBBS degree or Master's degree, varying from less than a year to several years of the coursework. For example, an executive MBA's graduate degree requires less than a year to complete.
Most graduate programs cost approx $30,000 at public institutions, as well as the private institutions charge approx $40,000 for graduate programs and the complete coursework of graduate programs includes 4 courses which allows student to get 12 credits per semester or trimester.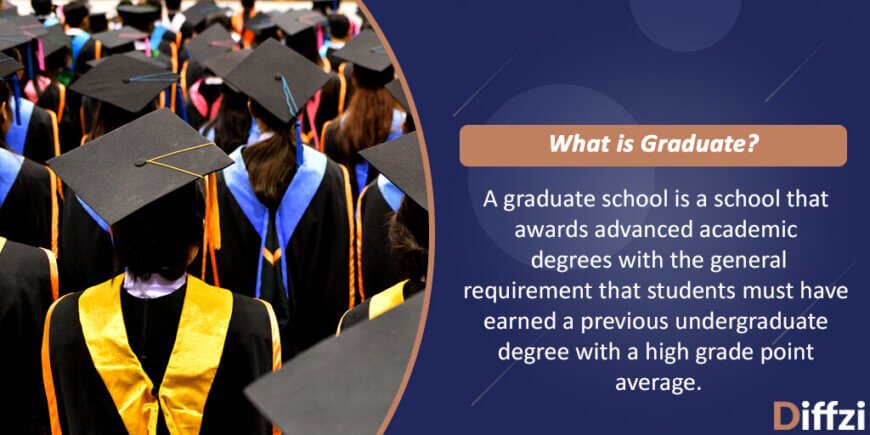 What is an Undergraduate?
Undergraduate or undergrad means that you have not finished your graduation or you have not bachelor degree. Whenever you get your graduation degree you will become Graduate and if you are waiting for your graduation result you will be considered as undergraduate as you have not completed your graduation.
Moreover, when the candidates pursue for 2 year associate programs at community colleges and technical school are also known as undergrad, for undergraduate degree, first you have to complete your high school diploma with a G.P of 2.0 then apply with your SAT (Scholastic Aptitude/Assessment Test) scores as well as ACT (American college testing) scores, in fact in some cases, TOFEL (Test of English as a Foreign Language) scores are also required.
Undergraduate programs courses are mostly large (especially in the first year and lengthy courses) as there are hundreds of students studying in one course, and students spent most of the time in asking questions with the teacher which results in very less one to one time with the professors.
Undergraduate programs cost approx $3000 for associate programs, $9000 for state resident and $20,000 for out of state resident for 4-year program at private universities and cost $32000 for 4 year degree program at private institutions. The undergraduate programs include 5-7 courses per semester or trimester that may include 15-21 credits.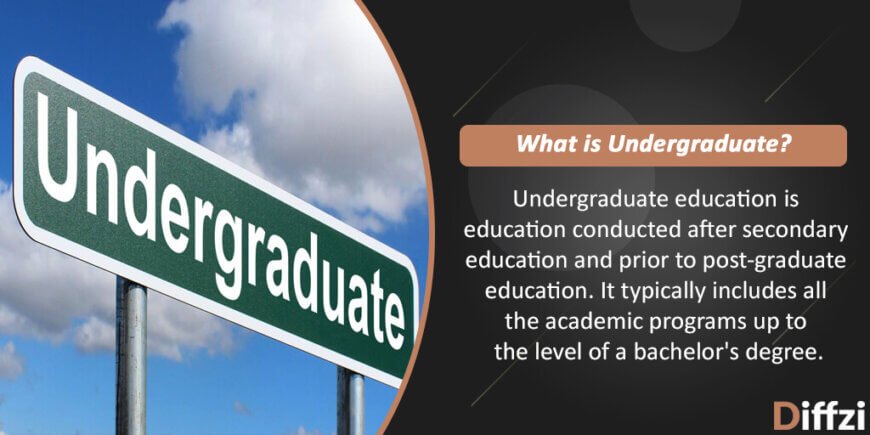 Key Differences between Graduate and Undergraduate
The difference between the term graduate and undergraduate is very confusing due to the different terminologies used in different countries in the world.
Graduate degree is a 1-6 year college degree, who already has bachelors degree, whereas undergraduate degree is a 4-year degree program or a 2-year associate degree program.
Graduate program includes 4 courses/12 credits per semester/trimester whereas undergraduate programs include 5-7 courses/15-21 credits per semester/trimester.
Undergraduate programs are more general in nature that includes a variety of subjects whereas graduate programs are highly specialized and have more advanced courses.
In undergraduate programs, students are usually engaged in projects and activities while in graduate program students are more focused towards research.
Undergraduate students can change their major subjects and can easily move to a different school during the program while students doing graduating cannot move from one university to another as every university has its own specialization.
You can get highly paid jobs with a graduate degree as compared to an undergraduate degree.
Fee structure is also different for both graduate and undergraduate degrees,
Comparison Video
Conclusion
Considering all the differences among the two you have to be aware of all the nuances among graduate and undergraduate degree. Most students who want to come to United States for studies may have a tough time due to the differences in the education system, the method for preparation for both graduate and undergraduate is also different. If you are going to apply to graduate a program or before applying for any course, you should talk to an education expert and you are supposed to have full knowledge regarding the course, however, graduation programs are of a highly preferable than the undergraduate programs and mostly a graduate degree offers you a higher paying job.