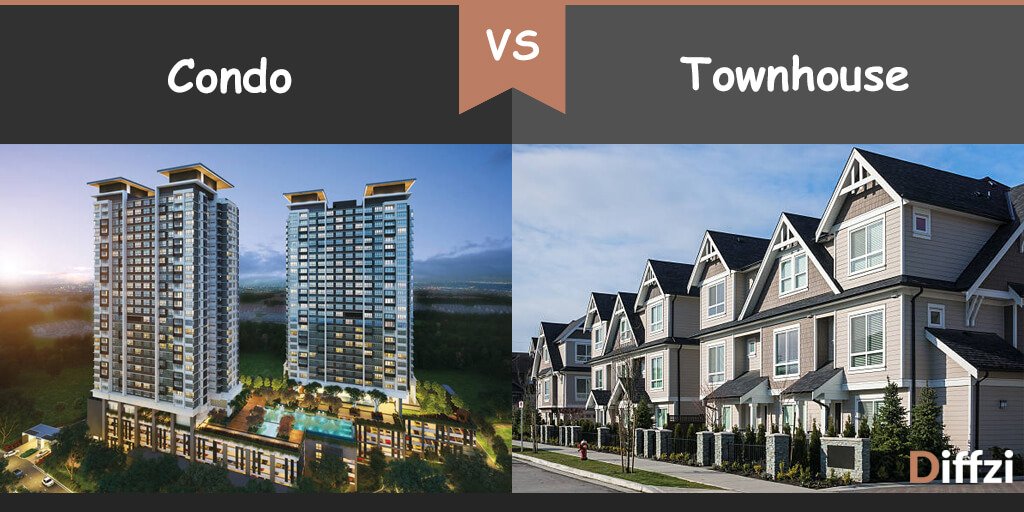 When it comes to deciding on buying property, people often find themselves confused choosing between a condo and townhouse.
A condo is a short term for the word condominium, is a private residential unit within a building or group of buildings while townhouses are also known as townhomes, are identical individual houses that share one or two walls and are usually in a row.
For some people living in a condo is best while some people prefer to live in a townhouse. Both have different pros and cons and provide unique facilities to the owners. So, how does one choose what is the best option for them and their family?
The decision will primarily depend on the type of lifestyle that you prefer. Condos are ideal for buyers who do not mind sharing the floors with other residents above, below, and next to them. On the other hand, a townhouse is ideal for buyers who are looking for a single-family home or a community property.
Below are some comparisons that you need to read if you are confused between buying a condo and buying a townhouse?
Comparison Chart
| | | |
| --- | --- | --- |
| | Condo | Townhouse |
| Proprietorship | A condo is a unit built in a larger complex where owners only own the interior of their unit while all other areas including the building exterior, lawn and communal areas are  property of the Homeowner Association (HOA) | In townhouse people own both the interior and exterior of their units, also includes the driveway, roof, and lawn, but not the communal areas |
| Architecture | A condo is built in a wide range of styles. It could be a part of a group of cottages, a large high-rise or anything in between | Townhouses are always designed in rows, so tenants usually share at least one wall. It is also common for townhouses to have two or more stories. |
| Amenities | Condos are more likely to have more amenities such as gymnasiums, play areas, party halls, meeting rooms, yoga area, rooftop bbq, open and green terrace, pools, and many other than townhouses | Townhouses tend to have lesser community amenities but have a small backyard and front yard to throw parties |
| Cost | Condos are cheaper than townhouses because they come with no land | An average townhouse is way too expensive than a luxurious condo |
| Homeowners Association Fee | Condo owners have to pay (HOA Fees) every month that may average around $300/month because they enjoy more community amenities | Townhouse owners also pay HOA fees, but in comparison to condos the fees are less expensive since townhouse communities tend to require less maintenance |
| Space | Condos tend to have less space. Singles or couples usually prefer them | Townhouses have comparatively more space and are generally chosen by families |
| Security | Condos usually have a higher level of security | Townhouses tend to have less security |
What is Condo?
A condo is also known as a condominium, is a privately owned individual unit within a building of other units. Condo refers to the type of ownership if you own the condo; you own the property within the walls of your unit.
Many of the condos are physically indistinguishable from apartments, though some developers construct condos that look like multilevel townhouses. It means a condo can also be a townhome and vice versa.
Pros of Living in a Condo
Here are some benefits of choosing a condominium:
Maintenance
The maintenance fee for a condominium is a way less. Residents will only need to look after their houses and not the common spaces. The corporation or HOA possesses most of the condos as well as the communal and other spaces. Thus, residents will have to pay maintenance fees every month.
Nevertheless, that will cover every maintenance work that might be required in society. From removal of snow to the maintenance of the common area, lawns, pools, parks, etc. everything will be included in the monthly maintenance fees.
Community Feel
One more added benefit of staying in a condominium is that residents will have many people staying nearby them. Therefore, people will have company at all times and especially during emergencies, having good neighbours can be beneficial.
Location
Most of the condos are in popular locations that have bustling neighbourhoods. This can be a big benefit for the residents since they will be living just a few steps away from all the requirements. Hence, the location of the condos play a crucial role and more often than not, condos are located in neighbourhoods that provide the resident with all the amenities.
Amenities
There are many amenities that a resident gets while living in a condo is just matchless. For example, facilities such as
Gymnasiums
Party rooms
Rooftop BBQ
Open and green terrace
Meeting rooms
Yoga rooms
Others are all available in every condo development these days.
Cost
The cost of staying in condos is low-cost compared to other real estate properties. Generally, all the charges for maintenance and extra works are divided between all the residents and owners. As a result, the cost of living in a condo is more affordable for many people.
Safety
Condos offer higher security for the residents. Since many people are living in the same community, they are considered much safer. Moreover, residents can pay for security services and gadgets.
Cons of Living in a Condo
Living in a condominium is not only about enjoying the perks. There are cons too to think over it:
Expensive Monthly Charges
Residents who are living in condos have to pay monthly fees for all the standard space amenities. Now, this might be a matter of dispute for most residents since not every person uses these spaces and enjoy the benefits that come with it.
Less Autonomy
What is Townhouse?
A townhouse is a housing style where multiple independent and identical houses are commonly built in a row.  The proprietor of the townhouse has possession of the land as well as the interior of the townhouse and the exterior of the townhouse.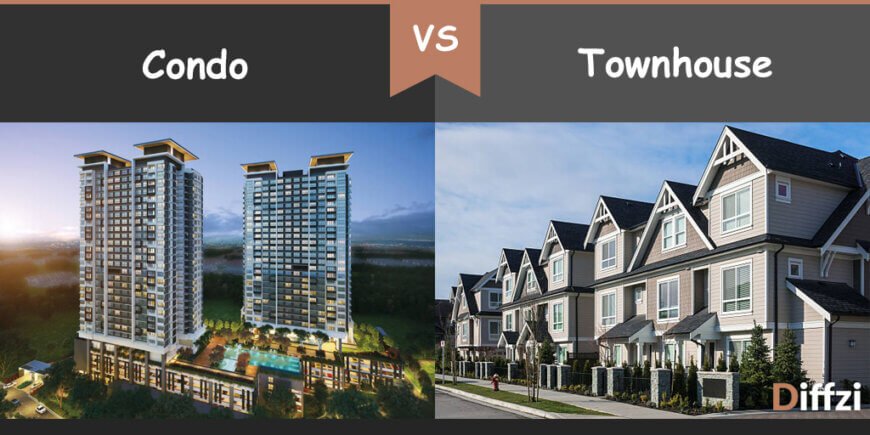 It means the owner of the townhouse also has the right to own the backyard, any amenity space that comes under it.
Many families have a reference to stay in townhouses due to the independent nature and freedom that is available in townhouses.
Pros of Living in a Townhouse
Here are some of the benefits of living in a townhouse:
Autonomy
Residents have the free will to make changes to their townhouse without any issue. They can amend both the interiors and exteriors of a townhouse. This is one of the prime reasons why residents prefer townhouses. They have the liberty to decorate and celebrate during festivals and personalize their townhouses as per their liking.
Higher value
Townhouses have higher resale values due to higher demand. Townhouses offer the tenants with freedom and independence that most people are ready to pay higher prices for.
Selective maintenance charges
Townhouses residents have to pay selective maintenance charges based on their requirements. For example, if a resident does not need a meeting room, there is no need to build it. Condo residents will have to pay for almost all the facilities and luxuries.
Cons of Living in a Townhouse
Similar to condominiums, townhouses also have their cons that many residents cannot compromise on.
Responsibility
Residents have higher responsibilities when residing in townhouses. They do not have the ease to call the maintenance for any repair work that might be needed. The owner will have to look after all the repairs and maintenance works that are required on the property.
Security
People staying in townhouses go through many security concerns. Since these are individual properties, residents may have concerns about employing security services.
Higher expenses
Not only people have to pay a higher amount to own a townhouse, but they will also need to pay more for the services as well.
Key Differences
One of the main differences between a condo and a townhouse is the ownership. If you own the condo, you will be responsible to maintain only the inside of your unit while if you own the townhouse; you will be responsible for the maintenance of your home, as well the front, back, and side yards.
Many of the condos offer great amenities like pools, gyms, parks, meeting rooms, playgrounds, and many others that residents can share and enjoy while townhouses have very few amenities to offer.
In terms of privacy, condos have some privacy issues due to a number of neighbours residing above and below you sharing with you all the amenities while townhouses offer more privacy than condos because you will have only neighbours on either side of you, as well as you will also get a front or backyard where your kids can play separately.
Residents of the condos have to pay monthly HOA fees because they require more maintenance and enjoy many amenities while residents of the townhouse need to pay lower HOA fees because they require less maintenance and have fewer amenities.
Lastly, there are some strict rules and regulations for the residents of condos to maintain the community while residents of the townhouse have more freedom of expression.
Conclusion
If you are still not sure whether to buy a condo or a townhouse, consider your budget, how much space you will need, how many members in your family are, how much privacy you need, and many other factors mentioned above.